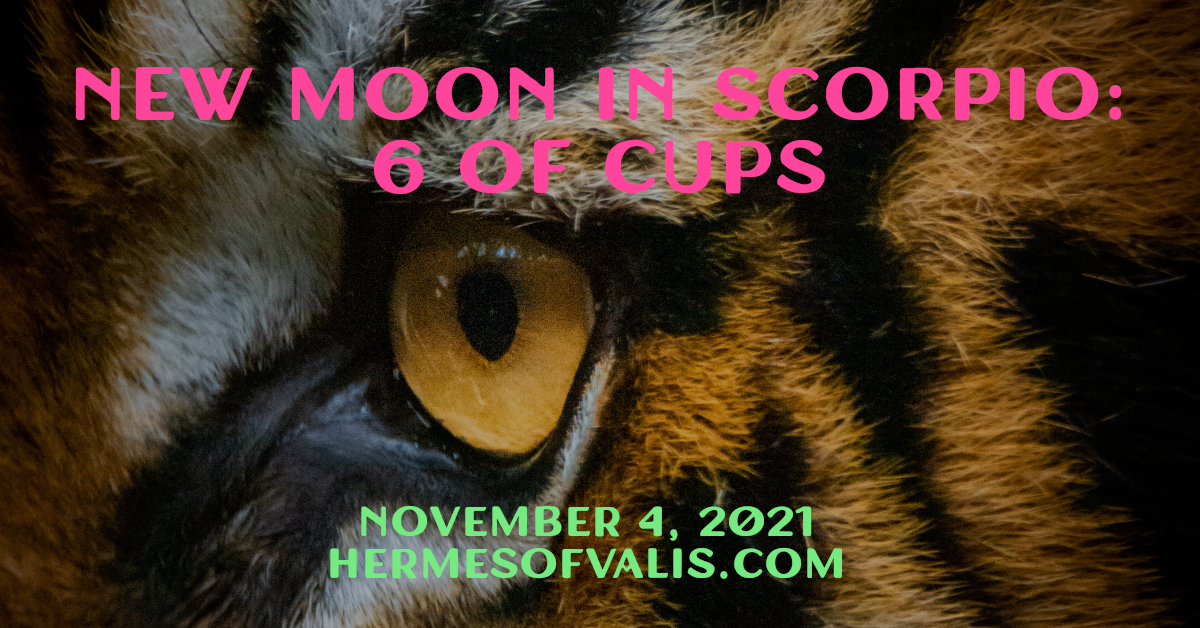 New Moon in Scorpio 2021
The New Moon in Scorpio is on November 4, 2021. This Lunation is the beginning of Eclipse season, with our first Eclipse on the Scorpio/Taurus axis falling on November 19. The New Moon in Scorpio is directly opposite unconventional Uranus. Follow that up with a partial Lunar Eclipse in Taurus, and November 2021 Astrology is fairly electric. It will spotlight the ongoing Uranus in Taurus stories unfolding in each of our lives.
The cycle begins in the middle decan of Scorpio, with magnanimous Sun and Jupiter ruling this portion of the sign. The 6 of Cups is the soft underbelly of Scorpio, playful and nostalgic, recalling our inner child. With the middle decan of Taurus opposite (the 6 of Pentacles), there is a reminder of the importance of reciprocity. There has to be a give and take, and equal energy exchange in all that we do.
Venus is in the final degree of Sagittarius during the New Moon, changing signs on the following day. Within this lunar cycle, she will begin her shadow period preceding Venus Retrograde in Capricorn. This period is a precursor to Venus Retrograde. It's made all the more important by Venus' rulership over the Lunar Eclipse in Taurus later in the month.
Important Features of the New Moon in Scorpio
New Moon opposite Uranus
Uranus began a new mini-cycle when he joined the Sun in Taurus on April 30, 2021. Check back to see what was happening around this time; there were likely some important insights that began the current chapter in your overall Uranus in Taurus story.
During the New Moon in Scorpio, the Sun and Moon are applying to an exact opposition with ingenious Uranus. This is a climactic moment for him. Big changes arrive in the area of life where Uranus resides. Pressure has been mounting here since the end of April and beginning of May.
There is an exciting, electric quality to the New Moon, which will carry through the entire lunar cycle. This energy can also bring about nervousness, unexpected developments that throw us off course, and other surprises.
We open our minds to possibilities that we haven't considered before. Whether or not we like it, these changes have arrived. Ever-present Uranus encourages us to embrace the energy of The Fool. This is about allowing the path to take us where it will. Don't hold onto rigid ideas or otherwise resist progress.
The Battle of Old Man Saturn versus Eccentric Uranus
Saturn in Aquarius rules the chart for Portland, Oregon, and he is rising during the New Moon in Scorpio. This serves as a reminder that Saturn has a respectable part to play in this story. The path of innovative Uranus comes in the form of a 3-part square between old-school Saturn and rebellious Uranus. He also rules the First Quarter Moon in Aquarius on Thursday, November 11.
Saturn very recently stationed Direct (on October 10). This initiated his journey forward to square Uranus for the third and final time on December 23. Previous dates of the Saturn-Uranus square this year were February 17 and June 14.
On a collective level, the Saturn-Uranus square pits the old against the new. This challenges structures that have stood the test of time to change and evolve. We have to take into account new insights and information that Uranus brings to the mix.
On a personal level, there can be a Saturnian element to our unfolding, personal Uranus story during 2021. There is some element of restriction, limitation, and withholding in the area where Taurus lives in our individual birth chart. These boundaries create pressure that builds over the course of the year. Uranus seeks to break free from limiting circumstances imposed by Saturn. Meanwhile, Saturn tries to curtail the chaotic nature of Uranus.
Venus & Mercury
Messenger Mercury and amiable Venus both change signs the day after the New Moon in Scorpio. Mercury moves into passionate Scorpio and Venus into sensual Capricorn. Being of Water and Earth, they are more grounded signs than Libra and Sagittarius. We bring our energy inward where it can gain greater focus and determination to see something through to the end.
Freshly ingressed Mercury and Venus work together in an advantageous sextile to provide opportunities for positive communication on November 6. This beneficial aspect can help us smooth over some of the kinks that arose from the zingy New Moon two days before.
The 6 of Cups, Lord of Pleasure
The middle decan of Scorpio is the 6 of Cups card in the Tarot. The Lord of Pleasure invokes feelings of purity, innocence, playfulness, and childhood. This is the part of Scorpio that is very fond of looking back at the past. Here we can appreciate previous experiences and meaningful connections shared in relationships.
There is another take provided by Waite (one that is more in line with the influence from wildcard Uranus). That is one of novelty: beginning a new relationship or friendship, gaining new insights, or being in an all-new environment. Reversed, he says that the 6 of Cups stands for renewal, which is certainly a Scorpio trait. We can sit in the past, reliving as in a daydream. We also have the possibility of releasing what no longer is and transforming that energy into something completely new.
The sixes in the Tarot represent balance, harmony, and accomplishment. The 6 of Cups, especially in the form of a New Moon, is a beginning of pleasure and increasing abundance.
The First Half of November 2021 Astrology
Building Tensions
On Wednesday, November 10, Mercury meets up with Mars in Scorpio and the two square Saturn together. This is already a tense aspect configuration. It's even more emotional with the addition of the Moon passing over Saturn in Aquarius at the time.
Mars-Mercury is a volatile combination that can bring heat and vigor into our communications. In Scorpio, Mars has great strength and determination. There can be some discussion of secrets and attention given toward darkness, uncomfortable truths, or even lies or deceptions. Mercury and Mars can be very strategic and manipulative. On the other hand, our words and way of thinking are full of passion today. It could be great for certain activities, such as writing under a constraint (creative structure/container) about something important to you.
The square to Saturn and First Quarter Moon can challenge us, throwing obstacles in our path. This keeps us at arms reach from what we so desperately want to achieve. These roadblocks can hit us on a deeply emotional level right now. There is a struggle to succeed and get ahead but we are determined to make it work. We have the enduring fortitude and resilience of an embattled Mars in Scorpio on our side. We can certainly overcome any hurdles that the week throws at us.
First Quarter Moon in Aquarius
The First Quarter Moon checking-in point comes on Thursday, November 11. This is right after the tense square between determined Mars-Mercury and our favorite naysayer, Saturn. The First Quarter Moon in innovative Aquarius is right there beside solemn Saturn. This reminds us of the rules and constraints we must operate under when realizing our greater vision. Tuning into our duties and responsibilities can help prevent fallout from not taking care of business. You'll feel better once you get it done.
Increasing Harmony from Romantic Neptune
The Sun in Scorpio forms a harmonious trine to intuitive, beautiful Neptune on November 12. This can help us visualize positive outcomes and align with our higher values in the aftermath of the storm. With increasing empathy and generosity, we feel more like connecting to others from the heart.
Mercury trines idealistic Neptune on November 18. Inspiration comes in the form of spirituality, works of beauty, and exposure to unusual, fascinating ideas or beliefs.
More Uranus Surprises in Store
We can encounter more surprises in the lead-up to the Lunar Eclipse in Taurus. Mercury and Mars in Scorpio are both opposing unpredictable Uranus (on November 13 and 17 respectively). With these aspects, we have a more impulsive, nervous, or restless energy involved.
Uranus scatters our thoughts. He also opens us to the possibility of discovering sudden realizations during the opposition with mental Mercury. Mars, being more peppery, spurs us to lash out in anger and frustration. This is especially true if we feel mistreated or if our needs for independence are unmet. This is a good time to make changes and commit to your own individuation and source of strength. Especially if you are hoping to break free from something that's been holding you back.
On November 18, Venus forms a more peaceful trine to Uranus just ahead of the Venus-ruled Eclipse! She gives her blessing which can help us warm up to the idea of trying something new. Creativity, socializing, and embracing the unfamiliar are all possible with this energy.
Sun squares Jupiter, sextiles Pluto
The Sun squares Jupiter in Aquarius on November 15, increasing confidence and optimism. Jupiter wants us to go big and to be loud and proud about our successes. It can be good to keep our egos in check at this time as well. Enjoy yourself but remember to practice moderation and humility at the same time.
The Sun is in an advantageous sextile with transformative Pluto the following day, increasing our determination to succeed.
Full Moon Lunar Eclipse in Taurus
The build-up leads into our first Eclipse of the season, a partial Lunar Eclipse in Taurus. The Lunar Nodes are preparing to switch signs in January. We will go from experiencing Eclipses on the Gemini/Sagittarius axis to having Eclipses in Taurus and Scorpio for the next year and a half.
Upcoming Eclipses
April 30, 2022: Partial Solar Eclipse in Taurus (10° 28′)
May 15, 2022: Total Lunar Eclipse in Scorpio (25° 17′)
October 25, 2022: Partial Solar Eclipse in Scorpio (02° 00′)
November 8, 2022: Total Lunar Eclipse in Taurus (16° 00′)