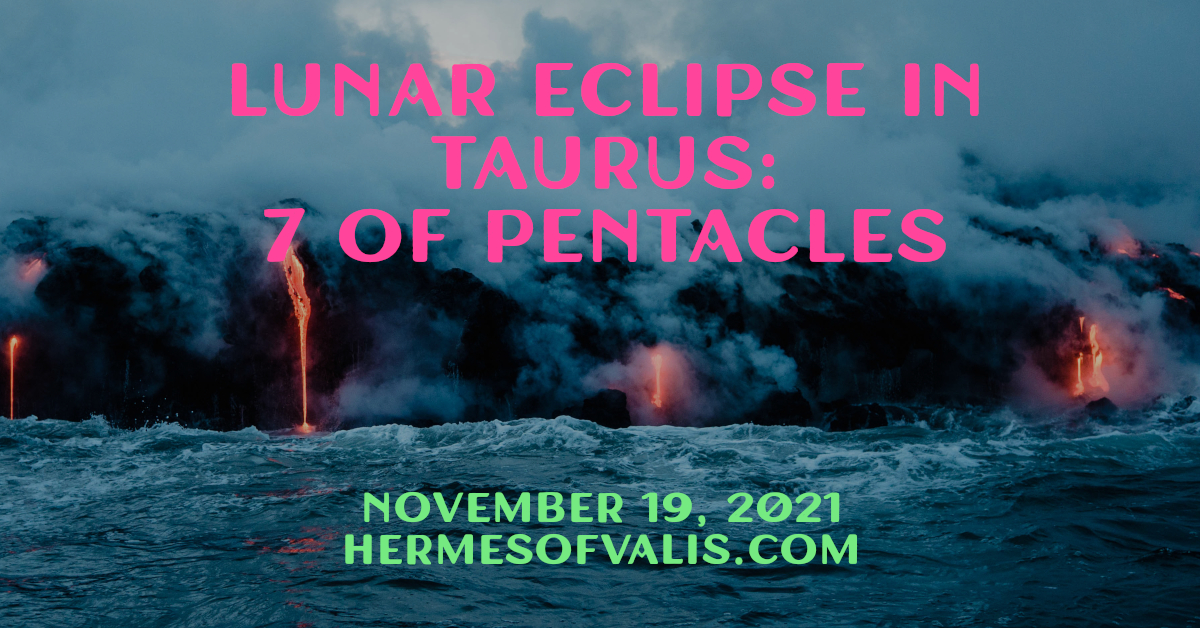 November 19, 2021 is the day of the Full Moon, a Lunar Eclipse in Taurus! This is our first Eclipse of the season. It's also the very first Eclipse to grace us from the Scorpio-Taurus axis, a set of Eclipses that takes us from this moment into 2023. This Full Moon is the culmination of the New Moon in Scorpio that fell on Thursday, November 4.
Turbulent Uranus still has his hands in the cookie jar, and will continue to be an important player throughout this Moon cycle. He's sitting opposite hot-headed Mars on Wednesday the 17th, putting tension on our need for independence, freedom, and change that can lead to hasty decision making or other bold moves.
Uranus is also in a more harmonious relationship to Venus, which helps during the Lunar Eclipse in Taurus, because Venus is the ruler of that sign and is overseeing Uranus' actions. Venus has also just entered the shadow zone of her upcoming retrograde in Capricorn (the shadow starts on November 17).
Mercury rules this chart (set for Portland, OR) and is opposite the Moon during her Eclipse. Mercury in Scorpio opposite the Lunar Eclipse in Taurus can pit our emotions against our logical mind or at least separate the two. Even if we know something logically, emotionally it may be a completely different matter. Now we're looking at the third decan of Scorpio, which is about passion, hunger, and death.
This is the longest duration of an Eclipse since 1440 and until 2669. The Eclipse is 6 hours long.
Important Elements of the Lunar Eclipse in Taurus
Beginning of Eclipse Season (Autumn 2021)
Autumn 2021 Eclipse Season includes this (partial) Lunar Eclipse in Taurus as well as a Total Solar Eclipse in Sagittarius, which will be our next Lunation.
This is obviously going to be the last Eclipse series of 2021. With it, we have our first Eclipse of the new set (falling on the Scorpio-Taurus axis), and the very last of the Sagittarius-Gemini set.
Scan the dates below to see when all of the Eclipses of the previous set happened. Look back to what was going on in your life at the time. Check in with what Houses in your birth chart are ruled by Gemini and Sagittarius. You can also see if you have other placements in Virgo and Pisces that would have been close by degree to these Eclipses.
A Look Back: Gemini – Sagittarius Eclipse Cycle
June 5, 2020: Penumbral Lunar Eclipse in Sagittarius (15° 34′)
November 30, 2020: Penumbral Lunar Eclipse in Gemini (08° 38′)
December 14, 2020: Total Solar Eclipse in Sagittarius (23° 08′)
May 26, 2021: Total Lunar Eclipse in Sagittarius (05° 25′)
June 10, 2021: Solar Annular Eclipse in Gemini (19° 47′)
December 3, 2021: Total Solar Eclipse in Sagittarius (12° 22′)
Now that you've taken a look back, here are the next Eclipses that we have to look forward to. Consider which Houses in your chart belong to Taurus and Scorpio. Also pay attention to placements in Leo and Aquarius that are close by degree.
Looking Ahead: The New Taurus-Scorpio Eclipse Cycle
November 19, 2021: Partial Lunar Eclipse in Taurus (27° 14′)
April 30, 2022: Partial Solar Eclipse in Taurus (10° 28′)
May 15, 2022: Total Lunar Eclipse in Scorpio (25° 17′)
October 25, 2022: Partial Solar Eclipse in Scorpio (02° 00′)
November 8, 2022: Total Lunar Eclipse in Taurus (16° 00′)
May 5, 2023: Penumbral Lunar Eclipse in Scorpio (14° 58′)
October 28, 2023: Partial Lunar Eclipse in Taurus (05° 09′)
Uranus is all up in our business!
Since he opposed the New Moon in Scorpio, Uranus has been central to this story from the get-go. The area where Uranus has been transiting our charts has been undergoing big changes since May 2018. Where is Taurus in your chart and what does that House rule??
Aries Rising: 2nd House – Money & Values
Taurus Rising: 1st House – Self & Body
Gemini Rising: 12th House – Imagination & Unconscious
Cancer Rising: 11th House – Friends & Associations
Leo Rising: 10th House – Career & Reputation
Virgo Rising: 9th House – Education/Philosophy & Worldview
Libra Rising: 8th House – Greater Mysteries & Inheritance
Scorpio Rising: 7th House – Relationships & Contracts
Sagittarius Rising: 6th House – Work & Daily Routine
Capricorn Rising: 5th House – Romance & Creativity
Aquarius Rising: 4th House – Home & Family
Pisces Rising: 3rd House – Communication & Immediate Environment
In the build-up to the Eclipse, Mercury and Mars in Scorpio both oppose Uranus (Mercury on the 13th and Mars on the 17th). This brings the Uranus story front and center in our minds and hearts. We may be torn between the two. One thing is certain when Mars opposes Uranus: we are itching for freedom and change and liberation from what has hurt us or held us back in the past.
And this is what Mercury opposite Uranus looks like to me – out of this world metaverse-style technical glitches:
Venus also trines Uranus right after she enters the shadow zone of her upcoming Retrograde. This means that the trine to Uranus repeats during Venus Retrograde and becomes an important signature of that transit.
Mercury & Mars trine Dreamy Neptune
Mercury and Mars both trine visionary Neptune afterward (Mercury on the 18th and Mars on the 29th). As we yearn and hunger for release and transformation that will feed our soul at any cost, we're enchanted by Neptune's Siren Song.
Mercury trine Neptune stirs up the imagination and turns up the inspiration factor. Even though Mercury is opposing the Moon and separating out our logic and feelings to some extent, we have a strong harmonizing factor from spiritual Neptune that helps bring things together. It makes us more sensitive, empathic, and aware of psychic impressions. We can take advantage of this by focusing on creative activities and channeling through music, divination, dance, creative writing or art.
Mars trine Neptune at the end of the month is also great for taking action through artistic or inspired methods. Passion and sensuality run high, especially with Mars in sexy Scorpio and with the trine happening in emotionally open water signs. This aspect is steamy, physical, compassionate and creative, favoring hands-on imaginative activities.
Mercury Opposes the Eclipse, Builds Momentum in Scorpio
Mercury is in his Waxing phase as he squares Jupiter (on November 20) and sextiles Pluto (on the 21st). He sits opposite the Full Moon during the Eclipse as he builds momentum in Scorpio. This is the time to be diving deep and digging up as much information as we can in the realm that Scorpio rules in our chart.
Mercury squares Jupiter the day after the Eclipse, making us think Big as we vibrate higher under the energy of the Moon. It's a good time to take into consideration everything that's happening now and where you might imagine going in the near future.
The sextile to Pluto is helpful for transformative changes that are ongoing. It will make us more persuasive and willing to communicate on another (deeper, more authentic) level.
The 3rd decans of Taurus & Scorpio
The Lunar Eclipse in Taurus falls in the third decan, which dutiful Saturn has double rulership over. Again we're reminded of Saturn's pervasive influence over everything. Where is he on his journey right now? Moving Direct to square Uranus for the third and final time this December.
The 7 of Disks: Lord of Failure
The third decan of Taurus is associated with the 7 of Pentacles card in the Tarot, the Lord of Failure. This card is the feeling of having done everything you can, and having to let go now because the outcome is out of your hands. We have to do what we can do avoid fall-out. Prepare for emergencies before they arrive so you're in the best position to weather the storm.
The Pentacles have correlations to agriculture (working the Earth). The 7 of Pentacles is associated with the end of the planting season, when you have to wait and see what the weather will do and how your seeds will fare. We're at that point astrologically in a little limbo zone between now and the New Year of 2022.
Astrology for the end of November
Start of Sagittarius Season
The sparkling Sagittarius Season runs from November 21 through December 21 this year. Our Magus Mercury joins the Sun in Sagittarius on the 24th, where he waxes philosophical and speaks his mind enthusiastically for all to hear. He reaches his Full phase with the Superior Conjunction to the Sun happening on November 28.
When the Sun enters Sagittarius, he's preparing for the Total Solar Eclipse that falls on December 3rd in this sign. The last part of the month takes on a restless, adventurous feeling as we navigate the heightened sensitivity of these Eclipse times. With this being our last Eclipse in Sagittarius, we are being asked to let go and finally release something that we've been working on in this area.
Mercury trines Chiron and sextiles Saturn on November 29, giving us an opportunity to work on our issues by standing up for ourselves, having the Fire to be responsible to ourselves first and foremost. We do this knowing that it will be better for the collective as a whole in the end. Our minds are more disciplined now and we can make good progress with planning and getting organized.
The next day, last day of the month, the Sun trines Chiron and sextiles Saturn as well. This favors hard work and serious goal-slaying. Keep focused on the task ahead.