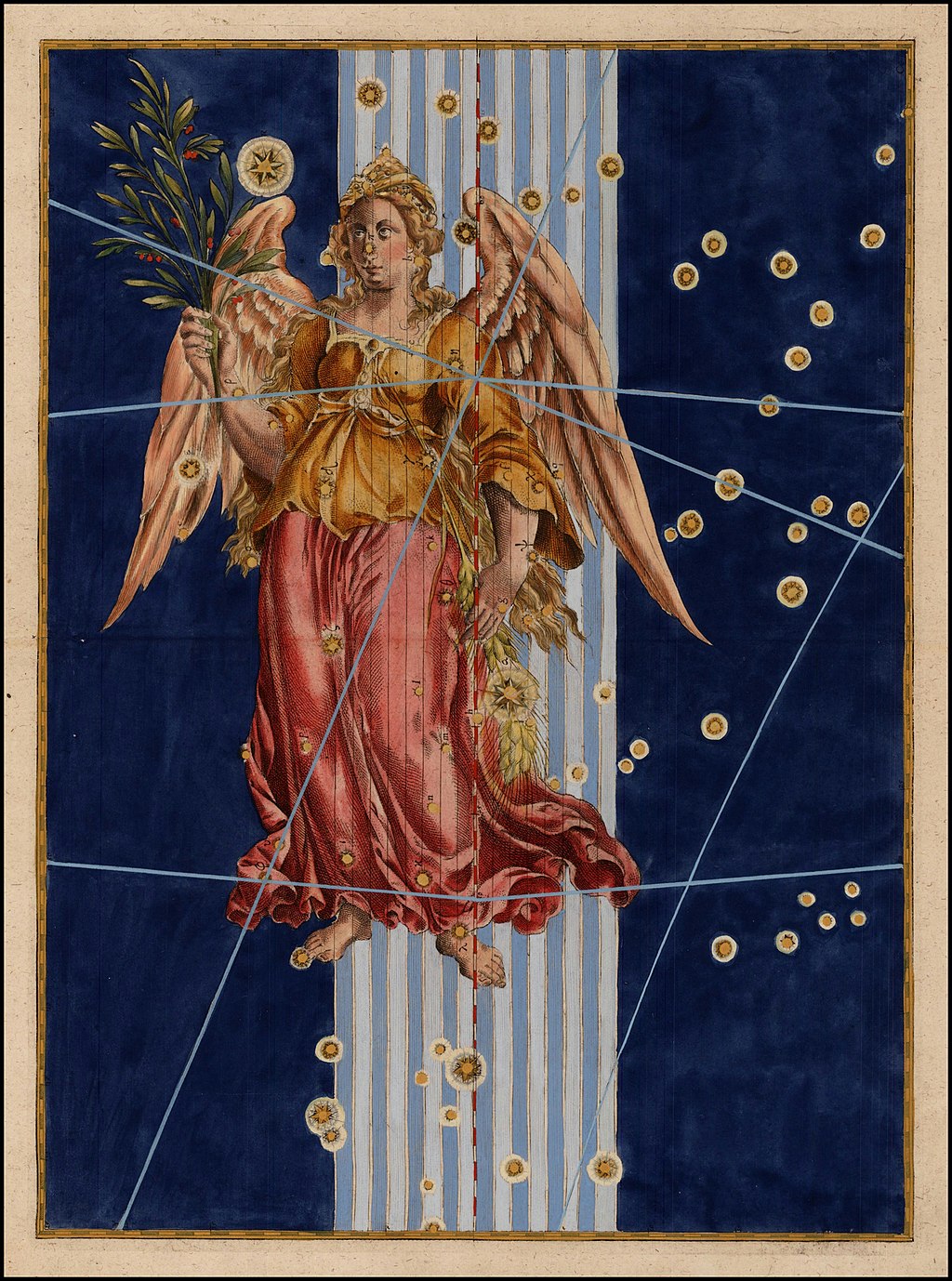 The New Moon in Virgo
The New Moon in Virgo is on Monday, September 6, 2021 at 5:52pm pacific. This is the beginning of the Mercury Retrograde shadow period. Mercury Retrograde in Libra lasts for the next two Moon cycles. The shadow period ends near the New Moon in Scorpio at the beginning of November, with a New Moon in Libra in between.
9 of Pentacles: Lord of Gain
The New Moon occurs in the 2nd decan of Virgo, corresponding to the 9 of Pentacles card in the Tarot. This is called Material Gain and is ruled by luxurious Venus. This part of Virgo represents the work and attention to detail that goes into making something of value. Artisan crafts and objects of beauty require painstaking attention to detail. The bird of prey in this image is sent to root out pests from the garden and guards against theft.
This lunation can be used magickally to call in material success and well-being. Possessions in the physical world can serve as anchors for manifesting our desires. If you have a Pentacle on your altar, or another representation of the Earth element, you can charge this with your intention for manifesting abundance and safety on the New Moon in Virgo.
Call on the Angelic ruler of the New Moon, Iehuiah, from 10:40-11am. Like the bird of prey, he'll reveal any traitors in your midst and root out any darkness from within.
9 of Pentacles New Moon Tarot Spread
The description for the 9 of Pentacles by Mathers & Felkin (1888) reads:
A White Radiating Angelic Hand, holding a rose branch with nine white roses, each of which touches a Pentacle. The Pentacles are arranged thus [diagram]. There are rosebuds on the branches as well as flowers. Venus and Virgo above and below.

Complete realization of material gain, good, riches; inheritance; covetous; treasuring of goods; and sometimes theft and knavery. The whole according to dignity.

Book T (1888)
The diagram (not shown) above is used here as a container for this New Moon in Virgo Tarot Spread.
The center card in the spread is your Key. This tells you the crux of what needs to be addressed in order for your manifestation to be successful. The 4 cards above are what you must do (Mars copresent with the Moon in Virgo is taking action). The 4 cards below are what you must imagine and invent in order to support your vision (Sun trine Uranus helps you change your mindset and generate excitement / self-belief to achieve your goals).
Important Transits of the New Moon
Saturn Rules the Chart
Saturn Retrograde in Aquarius is Rising in the 1st House and is the ruler of the New Moon chart. Now in the 8th degree, Saturn is nearly ready to Station Direct, making him a big player during this time. Saturn stations on October 10, after the New Moon in Libra, at 06° 52′. During the next month that means he'll be moving super slow in preparation for this full-stop.
With the New Moon in the 8th, endings and transformations are emphasized, as are shared resources and material assets. Restrictions and limitations from Saturn can bring a focus to humanitarian needs and other necessities. We can rely on the slow and steady Saturn path, creating structure and routine, to support us through the incoming changes.
Sun-Moon Trine Uranus
The New Moon is applying to an exact trine with Uranus at 14° 40′. Sun trine Uranus is a time of creative possibility and anticipation. Self expression can get a nice boost during this time and we can feel inspired to step out of our comfort zones in some way.
Having this electric aspect during the exact New Moon supports positive developments and changes that we want to make. There can also be important breakthroughs and insights that come right at the beginning of the lunar cycle. Imagine what you want to create.
Mercury in Libra (9th House) Retrograde Journey
Mercury is the ruler of Virgo and this New Moon represents the beginning of the Retrograde journey. When Mercury is Retrograde, he'll journey back to this very location in the Zodiac, reviewing themes from the New Moon at a later date.
Do you have any planets or angles at 10-26° Libra? How about same degrees, Aries/Cancer/Capricorn? If so, this Retrograde will have some material for you to work with.
Mercury is in Libra from August 29 through November 5.
Libra Mercury is thoughtful of others, and in the ninth house is conscious of world issues. This period will present opportunities for higher learning, expanding consciousness, and navigating unfamiliar ideas. Balance, fairness, and making social connections are important parts of the journey. Sharing our insights and ideas with others can be especially helpful.
Important Dates & Degrees for Mercury Retrograde
Shadow Period Begins: September 6 (New Moon in Virgo) at 12:55pm pacific
Mercury Stations Retrograde: September 26 ( at 25° 28′ Libra) at 10:10pm
Mercury's Inferior Conjunction (Mercury Cazimi): October 9 (at 16° 35′ & conjunct Mars)
Mercury Stations Direct: October 18 (at 10° 07′)
Shadow Period Ends: November 2 at 6:17pm
First Quarter Moon in Sagittarius (September 13)
The First Quarter Moon comes on September 13 at 21° 16′ Sagittarius. This is a Saturn ruled decan. This means that, as you check in with your progress this month, you want to be realistic about what's really achievable. Take a good look at your energy level around this time and make sure to guard against burnout. Don't take on more than you can handle, or you'll only be left feeling frazzled.
Full Moon in Pisces (September 20)
The Full Moon is in Pisces (28° 13′) on September 20 at 4:55pm pacific. This decan corresponds to the 10 of Cups, Lord of Satiety, which is the same place where Neptune currently presides.
This will be a culmination of the last New Moon in Pisces (also the 10 of Cups) on March 13.
Last Quarter Moon in Cancer (September 28)
The Last Quarter Moon starts to close the current cycle on the evening of September 28, in the sign of Cancer (06° 08′). This is just after Mercury Stations Retrograde. At the end of month, energy moves inward as we approach the time of the Dark Moon again and Mercury heads underground. We'll ideally want to initiate any important business before September 26, or wait until Mercury Cazimi on October 9 to throw our dice (just be aware that Mars will be a part of the equation then).
The Last Quarter Moon presents an opportunity to check in emotionally as we start our Libra Retrograde journey.
Venus in Scorpio (September 10 – October 7)
Beautiful Venus leaves her home for the deep waters of Scorpio on Venus day, September 10, where she'll reside until October 7.
She'll want to go to the depths of the heart, to find the hidden meaning behind the facade. She is intense, with a strong inner resolve. Determined, cunning and resourceful, nothing can stand in her way, especially once she sets her eyes on something she wants. Wants become needs and her desire becomes Will.
There's no fear of the dark. The dark becomes a cradle, a nest, a womb. A place to be reborn. A warm spot underground where she makes her home.
During her time in Scorpio, she'll square Saturn & Jupiter, oppose Uranus, trine Neptune, and sextile Pluto.
You may be able to spot Venus as evening star now just after sunset on the Western horizon.
Mars in Libra (September 14 – October 30)
Mars crosses the threshold of counterbalancing Libra on September 14. This will be the site of the next Mars Cazimi (Mars' Superior Conjunction with the Sun, his New Moon equivalent phase) on October 7. This catalyzes the New Moon in Libra of the day before. Mars' previous conjunction to the Sun in Virgo started the past Mars cycle on September 2, 2019, which culminated during Mars Retrograde in Aries on October 13, 2020.
Mars in Libra contributes to an active mind and an agreeable, social nature. Negotiation can be a focus of our activity this month as we strive to maintain fairness and balance. We can find ourselves facing internal conflict or indecision that thwarts our independence and ability to assert ourselves, leading to familiar Mars feelings of angst and restlessness.
During his stay in Libra, he'll trine the North Node, Saturn & Jupiter, oppose Chiron, conjoin the Sun & Mercury Retrograde, and square Pluto.
Mars enjoys a Mutual Reception with Venus from September 14 – October 7.
Mars is present with both the New Moon in Virgo and the New Moon in Libra. Eventually he'll slither into his more familiar territory of Scorpio just in time for Halloween.
Sun in Libra (September 22 – October 22)
The Sun enters Libra on September 22 at 12:21pm, the beginning of Libra season & Autumn Equinox.
While in Libra, the Sun trines the North Node, Saturn & Jupiter, opposes Chiron, conjoin Mars & Mercury Retrograde, and squares Pluto.
Did you know the first release of Venus in Leo candles has a mutual reception between the Sun in Libra and Venus in Leo? This is the only Sun in Libra product in the Hermes of VALIS line at the moment. Votives are all sold out but there are 13 travel tins remaining!
There will be another release of Venus in Leo, but with a different flavor that is more Marsy and does not feature the same mutual reception with the Sun. This mutual reception with Venus and the Sun won't come around again until 2023.