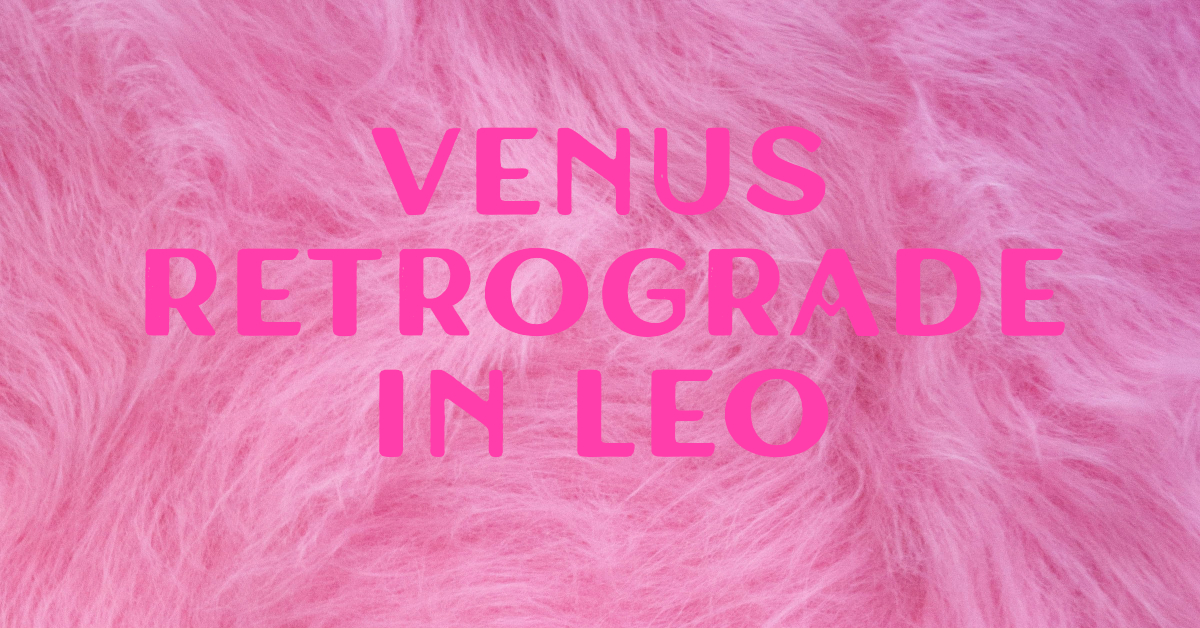 Venus experiences a Retrograde season about once every 19 months. In 2023, Venus is Retrograde in Leo, offering you a chance to examine your relationship to yourself, your brand, your creativity, and your outward self expression.
From July 22 until September 3, the planet of relationships, beauty, and art will be in deep introspection mode, contemplating the ways she needs to step into the limelight and be seen. Venus in Leo is courageous, playful, and wants to be appreciated for who she essentially is.
Venus Retrograde in Leo 2023 Timeline
June 5 – Venus enters Leo
June 11 – 1st square to Jupiter
June 19 – Start of the pre-retrograde shadow phase
July 2 – 1st square to Uranus
July 22 – Venus Stations Retrograde at 28° 36′ Leo
July 27 – Conjunction with Mercury
August 9 – 2nd square to Uranus
August 13 – Venus Cazimi
August 22 – 2nd square to Jupiter
September 3 – Venus Stations Direct at 12° 12′ Leo
September 16 – 3rd square to Jupiter
September 29 – 3rd square to Uranus
October 2 – Venus trines the North Node of future growth
October 7 – End of the post-retrograde shadow phase
Important Aspects that Venus Retrograde in Leo Makes
Mercury Conjunct Venus Retrograde in Leo
On July 27, Mercury meets up with Venus on his way out of Leo (at 28° 12′). Mercury invites you to think, process, and communicate around the expressive, self-conscious Venus Retrograde in Leo themes. This is an ideal time to write it out in your journal, brainstorm, get it on paper and out of your head.
Socializing and exploring creative relationships can be an excellent use of this energy. You might also want to dig into some hands on, expressive arts to work through this energy and find where your head's at.
With past-facing Pluto in Capricorn squaring the lunar nodes this week, there can be a tie-in with looking to the distant past, your roots and inheritance, and contemplating what your own legacy may be. What are you creating or hoping to create that you'll pass on as a testament to your own creative drive and soul purpose?
What's on your mind about Venus Retrograde and your own creative process? How do you plan on stepping into the Light? Think first steps. You have time!
Venus Squares Jupiter + Uranus in Taurus
Venus in Leo makes a series of 3 squares each to both Jupiter and Uranus in Taurus. These are significant, especially since Jupiter and Uranus are in the Fixed sign that Venus rules. Each series of energizing square aspects has a hit before, during, and after the Retrograde. You can consider this a 3-part story and use the dates to determine your own plot development throughout the Venus Retrograde journey.
Jupiter in Taurus will light up Venus Retrograde on June 11 (5° 37′), August 22 (15° 18′), and September 16 (15° 18′). The king of the Gods brings enthusiasm, optimism, and exuberance with him, even in the typically jarring square aspect. These dates will be good for casting your vision far and wide, imagining new heights and possibilities, and committing to long-term growth and success. You're bound to feel good about the trajectory of things, so use this positive energy to envision your creative possibilities and step into your zone of brilliance.
Uranus in Taurus will shake things up for Venus on July 2 (21° 46′), August 9 (22° 54′), and September 29 (22° 40′). These days will highlight the anciness you feel, encouraging you to break out of self-imposed limitations and restrictive relationship dynamics. You want most of all to be free and uninhibited in order to express yourself without fear or trepidation. Uranus is here to make sure you don't let anything continue to stand in your way. Embrace experimentation and lean into the unknown at these times for maximum success.
Venus Cazimi in Leo
Venus has her moment being in perfect alignment with the Sun on August 13 at 20° 28′ Leo. Here she's reborn in the heart of the Sun, starting a new cycle for our relationships – to others and ourselves.
This cycle will reach fulfillment on June 4, 2024 in social Gemini. What the two signs have in common is that outward-pouring, extroverted energy. The superior conjunction in 2024 sextiles the North Node in Aries, also calling us to be more active and self-initiating.
Venus trine the North Node
The final move that Venus makes during this Retrograde season is to form a harmonious trine to the North Node of future growth, now in fiery, passionate Aries. This final salute on October 2nd that Venus in Leo makes at 24° 55′ is a reminder to honor yourself first, to lead from the heart, and to take action based on your intuitive self-understanding.
Venus in Leo Astrological Magick
Time is running out to secure these last remaining Venus in Leo ritual candles from Hermes of VALIS. There are currently just 18 travel tins and only ONE votive candle left in stock. No restocks will be available for these beauts, keyed to a passionate Venus and Mars in Leo with a blend of lavender, rose absolute, and tangerine.