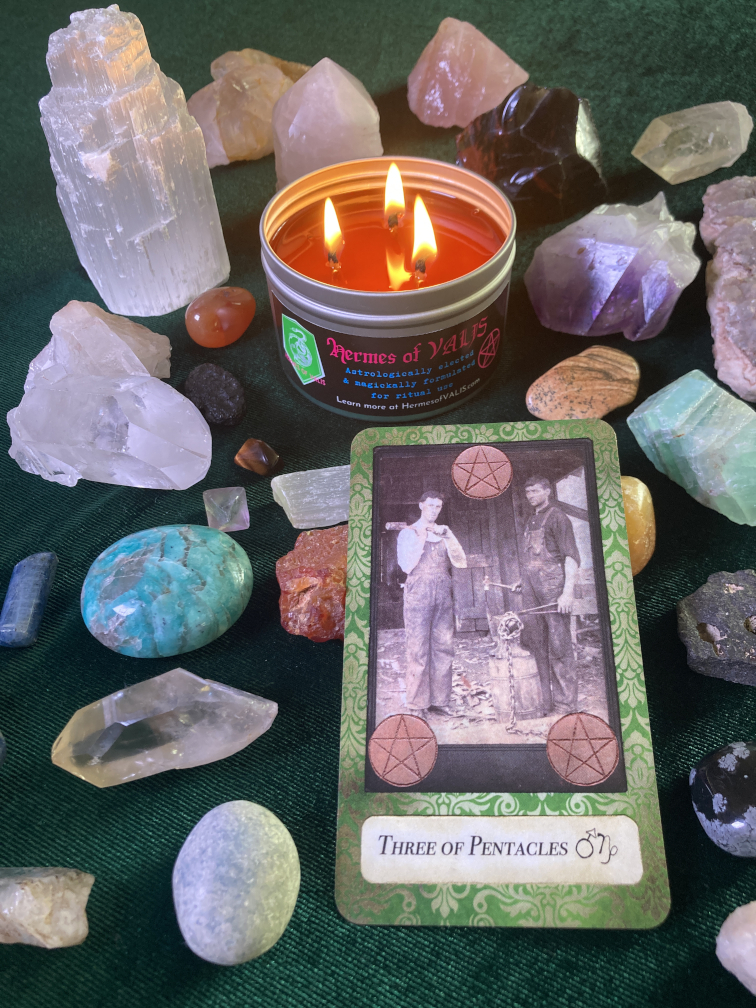 How to Use The 3 of Pentacles Series for Full Moon in Capricorn Magick
The 3 of Pentacles is the Lord of Material Works. This is the middle decan of Capricorn, where we have our Full Moon on July 3, 2023.
The Full Moon in Capricorn comes on the heels of an illuminating Mercury Cazimi. This is a lucky time for Mercury when he reaches his Full phase and unites with the Sun.
During the Full phase of the Moon – exact at 4:39am PDT on Monday morning (the 3rd) – Mercury is ahead of the Sun already by 3 degrees. Despite the fact that Mercury Cazimi's over, the energy of that Cazimi is baked right into the Full Moon. The Full Moon is built on its enlightening and energizing momentum.
The Cazimi energy heightens awareness, leading to insights and revelations about intimacy and our relationships. We're called to think deeply about what bonds are really the most important to us. To focus our energy on protecting and nurturing those connections. The Full Moon also heightens our awareness of how we can work together to build something of lasting value.
The Energy Leading into the Full Moon
A Blessing from Jupiter and a Motivating Fire Trine
The Mercury Cazimi at 9° 8′ Cancer on June 30th is especially fortunate. It's in a helpful sextile relationship with good-hearted Jupiter, potentially opening us up to some lucky opportunities. The Sun and Mercury are harmonizing with disciplined Saturn, too. This provides ease with setting boundaries and developing an intuitive container or system that's going to work for you.
The current communications cycle began on May 1st. At that time, Mercury was retrograde in Taurus, associated with the steady, rhythmic flow of the universe. Our mental focus has been on reciprocity, ensuring that there's an equal give and take in relationships and at work.
Now at his full phase, Mercury meets with the royal Sun in the first decan of Cancer. This part of the Zodiac's associated with the Love card in the Tarot. The 2 of Cups represents the deep bond of trust and intimacy. It can be a romance, a mom and her baby, or any two souls meeting each other in divinity.
This is followed by a nice Fire trine with the building Moon in active Sagittarius. She applies to Venus-Mars in heroic Leo, and Chiron in independent Aries. It's a lot of upward energy with forward momentum. It can feel energizing and motivating as it stirs up all this energy and action.
A Preview of What's to Come: Venus in Leo Square Uranus
Venus in Leo squares Uranus on July 2nd. This invites Full Moon drama to creep in that may be associated with your Venus Retrograde journey to come. Venus Retrograde is right around the corner. The goddess of love, beauty and pleasure in her pre-retrograde shadow phase from June 19 until she stations on July 22.
This means that this Full Moon drama with Venus and Uranus is part of a 3-act show. Pay special attention to any big revelations, strange occurrences, or surprises now. Look to your relationships, business dealings, or thinking about money, art, and things of value. This rambunctious transit will happen again on August 9, and one final time after the Retrograde on September 29.
Venus square Uranus invites spontaneous outbursts in love, enticing or terrifying us with its curiosity-led expeditions into the unknown. You may be feeling like acting out or going against the grain. Especially if you're feeling trapped, limited, or stuck in some way.
To pay closer attention to what this transit means for you, look at the cycle between Venus and Uranus. This is the opening problem of a newly developing story. Venus and Uranus are in a cycle that started on March 30.
Current Venus-Uranus Cycle
Venus conjunct Uranus in Taurus – March 30, 2023 at 16° 44′
Opening Square with Venus in Leo – July 2, 2023 at 21° 46′, August 9 at 22° 54′, and September 29 at 22° 40′
Opposition with Venus in Scorpio – December 20 at 19° 39′
Closing Square with Venus in Aquarius – March 3, 2024 at 19° 39′ (interestingly, same exact degree as the opposition)
New Cycle begins with Venus-Uranus in Taurus – May 18, 2024 at 23° 23′
Advantageous Element of the Full Moon: A Trine to Jupiter
The Moon trines Jupiter immediately leading into the exact Full phase. This brings in the blessing of bountiful Jupiter, helping us get lucky with our manifestation and other magickal workings.
3 of Pentacles: Capricorn Decan 2 – Lord of Material Works
The 3 of Pentacles card in the Tarot is about building something of lasting value. You have a grand vision for something you want to create. It's a thing of great stature and beauty. You're willing to put the energy into performing the necessary daily works to make it into a physical reality. There's often an element of teamwork, planning, and collaboration that goes into this tangible realization of the project. This is a great energy for manifestation as well as building and business planning.
This decan is ruled by Mars (exalted in Capricorn) and Venus. "Material Works" refers to building something beautiful. Realize your divine vision in the physical realm through organized work and dedicated, consistent action. Mars' ambition is given a lovely structure and containment by Saturn-ruled Capricorn.
This Full Moon can help us focus on planning for and realizing our goals. Just be sure that you're building in structures and systems that can sustain your efforts in the long-term.
The figures in the card are working together to plan, build, and bless the church. They're creating a place of beauty and divinity within the material realm. There can be an element of teamwork, collaboration, or consultation implied with this card. Whether you talk about your plans with others or just consult your inner guides, there'll be a feeling of guidance. This whole month will be a great time for goal planning. Now you can get organized for the important tasks that need getting done to realize those higher visions of yours.
The 3 of Pentacles: Mars in Capricorn Series on Hermes of VALIS
You can work directly with Mars in Capricorn energy with the Hermes of VALIS elected series: The 3 of Pentacles.
To charge your Mars in Capricorn ritual candles for the Full Moon or any other time, follow these directions. First, set an intention for one major goal or tangible thing you want to manifest. Be specific: name it and write it down. Set a realistic, measurable goal with a specific timeline for best effect.
Light your 3 of Pentacles candles, and while burning them attend to the work. Give yourself a certain amount of time to plan and organize your thoughts in a way that works for you.
Now you have the limits and definitions of your goal. Identify what the "material works" are that you'll use to make it happen. What are 2-3 activities you can dedicate yourself to using consistently to work toward your goal? What physical tools or environments do you need to get the job done? How can you build routine, habits, and structure in to make this happen? Who can you call on for help? Can something be simplified or delegated?
Burn your candles while working on your project and have regular check ins during Mars and Venus times. You can include prayers and offerings to Mars, Venus, and/or Saturn at an altar to assist the work. This is useful energy for hands-on work that requires an eye for beauty and strong technical skills.
Did you enjoy this article? Leave a comment! Tell me how you're integrating the lessons of the Full Moon in Capricorn or 3 of Pentacles energy in general.