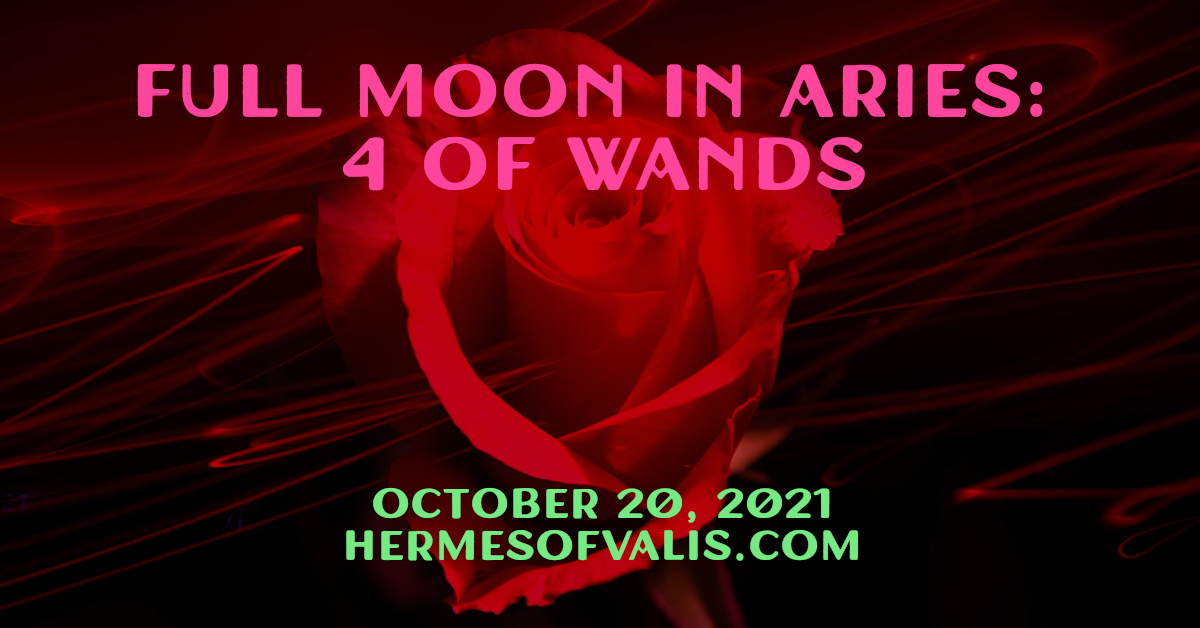 The Full Moon in Aries is on October 20, 2021 in the final decan of the pioneering sign (at 27° 26′), which is ruled by Venus and Jupiter. This decan represents a rite of passage or celebration of initial success. In the Tarot, it's assigned to the 4 of Wands, whose esoteric name is the Lord of Completion, or the Lord of Perfected Work.
Since the New Moon in Libra on October 6, Mars and Mercury have both been reborn in the heart of the Sun, starting new planetary cycles. Pluto, Saturn, Jupiter, and Mercury have all ended their Retrograde cycles, making way for a new chapter where energies can begin to move forward again. Pluto is in there breaking down the old structures and rooting through the ashes for gold and information.
With so many planets stationing direct, there is both the feeling that things are starting to move ahead, and that the energy is standing still. It will take Pluto, Saturn, and Jupiter time before they get back up to speed (while Mercury will be a little quicker on his feet).
Important Elements of the Full Moon in Aries
The Full Moon in Aries is doubly-ruled by warrior Mars, as the Ascendant is also in Scorpio. With a volatile Mars-Pluto square on the way, it's as if there's a great volcano stewing and bubbling up underneath this very fiery Full Moon.
Spicy Mars encourages us to stand our ground, trust our instincts, and take the lead. We're easily spurred on to take action under an Aries Moon. We can feel a bit restless, impulsive, and energetic at this time. It's time to move, act, DO.
Sun square Pluto (exact October 17)
A powerful Sun-Pluto square played an important role in the build-up to this lunation. The Sun, a symbol of our vitality and self-expression, squares off with Pluto, an agent of regeneration. In the lead-up to the Full Moon in Aries, this brings up power, challenges to self, and the stress of having to prove or transform yourself.
Mercury opposite Chiron (exact September 7)
Mercury opposite the wounded healer, Chiron, in Aries heats up conversations and thought processes centered around our inner wounds and personal healing journey. This is an ongoing narrative about our individuality, our independence, and our ability to assert and defend ourselves.
Mercury stationed Direct on October 18 opposite Chiron, but the aspect was only exact once on September 7. This was exactly one day after the New Moon in Virgo, which was the very beginning of the current Mercury Retrograde shadow zone. Mercury returns to the same degree he was at during his opposition to Chiron on October 22.
As we come out of this Mercury Retrograde in Libra (with Mercury stationing Direct on October 18), it's time to review one last time the territory he's been over. That is, 10° 07′ to 25° 28′ of Libra (affecting all cardinal signs: Aries, Cancer, Libra, & Capricorn). The post-retrograde shadow period ends on November 2, which carries us through the end of the current lunar cycle.
Saturn's Influence over the Full Moon
Saturn clears his throat awkwardly from the darkest corner of the room, nudging us to remember our duties, deadlines, and obligations. Luckily, Saturn can function in a more positive light during the daytime, so his prominent position in this chart (conjunct the IC) isn't so problematic. We can draw on his wisdom to plan and think more strategically about our ambitions. This way we can make sure our foundation is solid before rushing ahead blindly like the Aries Moon very badly wants us to do.
The bottom of the chart hosting Saturn (who just stationed direct) is a lead weight anchoring us down. This can make us feel just a little bit squirrelly at the moment, because our impulse under Aries Moon is to go, go, go.
In a way, this feeling of needing proper boundaries and structure during the Full Moon also foreshadows an upcoming square between Saturn and Mars. Saturn says, "not so fast, cowboy," reminding us that there's still a lot of work to be done. We have to be committed to the long haul and the master vision.
Mars trine Jupiter (exact October 18)
Mars heroically poses with Jupiter on the lead up to the Full Moon. We feel like we're up to the challenge with increased competitiveness and self-confidence. This is great energy for business, decision-making, going for what you want, and taking bold action.
The 4 of Wands: Completion, Perfected Work
The 4 of Wands as a significator for this Full Moon in Aries is a reminder to celebrate our successes. Several planets have just ended their retrogrades this October, making this a transition point where the energy can begin to move forward again.
October 2021 is a major turning point for all of us, but it will really take the rest of the year for the next chapter to begin. This new chapter will likely align with Jupiter's ingress into Pisces on December 28. But here we can see some positive developments and forward progress is already happening.
Honor how far you've come on your personal journey and remember that it wasn't always easy getting to this point. Honor the breakthroughs you've been experiencing, no matter how difficult they are or how insignificant they may seem in the bigger picture. This is not about the end of the journey as a whole, but recognizing important milestones along the way.
A Culmination of the New Moon in Aries (of April 2021)
This Full Moon is a fulfillment of the last New Moon in Aries, which was on April 12, 2021. Consider which House Aries rules in your birth chart. What was seeded there in mid-April that has reached a state of culmination now? Where do you want to be next on this journey? The next New Moon in Aries will be conjunct Mercury and Chiron at 11° 30′ on March 31, 2022.
The Last Quarter Moon is in Leo (5° 27′) on October 28. This will be the final check-in point before the next lunar cycle begins. The next chapter will open with a New Moon in Scorpio on November 4.
Next month we'll be entering into Eclipse Season, with Eclipses starting to happen in Taurus and Scorpio soon. November hosts the first one, a Lunar Eclipse in Taurus on November 19. December's Solar Eclipse will be in Sagittarius.
Mars square Pluto (exact October 21)
The red-hot Mars-Pluto square that brews under the Full Moon in Aries goes exact on the following day (at 9:19 pm Pacific). This can agitate our willpower and determination to succeed by any means. Power struggles and confrontations can arise. We come up against a powerful force of resistance as we try to push ahead for what we want. At the same time, we feel fierce and prepared to step up to the challenge now.
End of October Astrology
Sun enters Scorpio (October 22 – November 21)
The Sun enters brooding Scorpio just after the Full Moon, on October 22.
While in Scorpio, the Sun will square Saturn (see below, October 30), oppose Uranus (November 4), trine Neptune (November 12), square Jupiter (November 15), and sextile Pluto (November 16).
Mars enters Scorpio (October 30 – December 13)
Mars enters his own nocturnal domain on October 30, just in time for Samhain.
During his time in Scorpio, Mars will meet up with Mercury and square Saturn simultaneously (November 10), oppose Uranus (November 17), and trine Neptune (November 29). In December he sextiles Pluto (on the 6th) and squares Jupiter (on the 7th).
Important Transits at the end of October 2021
Venus in Sagittarius squares Neptune (October 26)
Distortions of reality can confuse us, especially when it comes to how we relate to other people or in our relationships. Idealistic images of perfection are enticing, but remember that you might not be seeing the whole picture.
Venus sextiles Jupiter (October 28)
This is a fortunate, positive transit that we can take advantage of. It's a good time for being social, sharing the love, or trying your luck.
Sun in Scorpio squares Saturn (October 30)
During this time we can feel personally challenged to push ourselves and grow. There is a feeling of being under pressure where we feel the weight of our responsibilities. Show up to the task with diligence, patience, and perseverance and get it done (you'll feel better when you do).
Mercury in Libra trine Jupiter (October 31)
This is the third and final hit of Mercury in Libra trine Jupiter in Aquarius. The other dates were on September 20 and October 3.
Mercury trine Jupiter brings us positive news, optimism, and good fortune. It's a great time for gathering knowledge, doing business, planning ahead, and socializing.