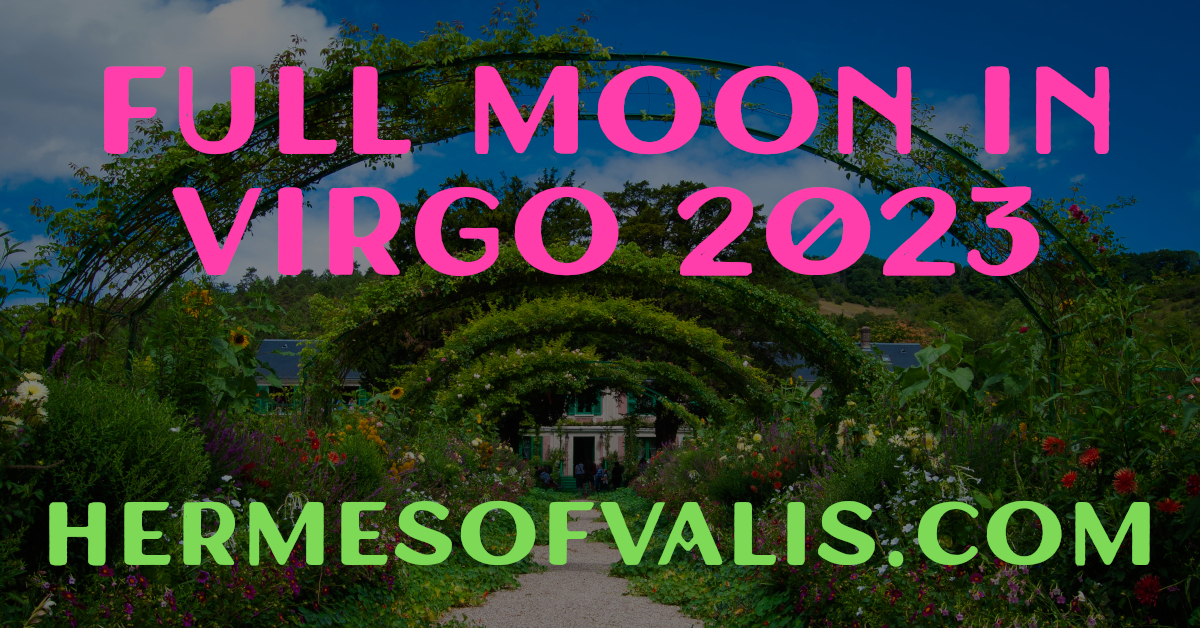 Full Moon in Virgo 2023
The Full Moon in Virgo on March 7, 2023 is in the second part of the Maiden's sign, the Lord of Gain. In Tarot we look to the 9 of Pentacles, which is concerned with material independence and self-sufficiency. The image of the 9 of Pentacles is of a woman tending her garden. She holds a bird of prey whose job it is to kill the pests that would otherwise nibble away at the fruits of her labor.
Every Full Moon is an opportunity for heightened awareness on our spiritual path. As the Moon's light increases, so does our understanding of our lived experiences. This Moon can be particularly illuminating. An electric Sun-Uranus transit ties into this lunation, offering a spark of optimism, intuitive insight and innovative thinking.
The Full Moon brings with her an anticipated change in the skies — Saturn moving into enigmatic Pisces, Pluto into idealistic Aquarius, and Mars into empathetic Cancer.
Pluto in Capricorn Rising
Pluto is rising in the last degree of Capricorn, with Saturn 1 minute shy of changing signs for the next three years. This highlights the precipice feeling of this Full Moon. Things are about to change for us in a big way, with Saturn moving into Pisces until 2026 and Pluto heading for Aquarius until 2043.
2008 was the beginning of Pluto in Capricorn. The transformation of societal structures since that time shows Pluto's power to break things down and give them new form.
Although Pluto moves into Aquarius later this month, he'll be back in Capricorn from June 11th to January 20th. He'll also have another short stint in Capricorn in the Fall of 2024, so we haven't seen the end of this story quite yet.
Uranus Offers Heightened Awareness
The Sun sextiles Uranus the day before the Full Moon. This aspect can increase feelings of brightness and optimism as we consider our newly unfolding path. Exposure to new ideas, surprises, and unconventionality can inspire creative thinking and fresh solutions.
Follow your excitement and curiosity to unlock key insights with the Full Moon in Virgo 2023. Embrace the unexpected, the unfamiliar, and allow the spontaneity of the blindly optimistic Fool to inspire you.
Luna sees rebellious and independent Uranus, bringing them into harmony. Uranus in Taurus decan 2 teaches us about reciprocity, equal energy exchange, and mutual respect. We can feel more positive about going with the flow, especially when these needs are met, and balanced with our need for autonomy.
Jupiter-Chiron: Healing to Assert Your Will
Jupiter's now joining forces with Chiron in self-assertive Aries. This can bring us good luck and breakthroughs in our healing journey. In seeking independence, working our will, or stepping into a position of leadership, Jupiter gives encouragement and the power of positive belief.
Mars Prepares to Clear His Shadow
The Full Moon is in conflict with Mars, bringing some potential heat and frustration into the mix. It's important to remember that Mars, too, is preparing to change signs for the first time in quite a while. He's been in Gemini for the last 6 months, and will move into emotional Cancer later this month.
With Mars having been retrograde during the Fall, he still hasn't caught up to the degree he was in when he started moving back through Gemini (25° 36′). He'll clear the shadow of his retrograde fully about a week after the Full Moon, on March 15, when we're wrapping up this lunation during the Last Quarter Moon phase.
Finishing up his retrograde journey, Mars will be motivated to take decisive action after deliberating over the data for so long.
Saturn in Aquarius at 29 Degrees
Just before changing signs, Saturn is doing important work in the final decan of Aquarius. This is an opportunity to gather information from the past before moving onward. Take one last look at what you're leaving behind: Like the man in the 7 of Swords, stealing Swords away from the encampment, we walk away with what we can. The Swords we carry with us are the ideas, beliefs, and philosophies that we've acquired by interacting with, and being expelled from, community or the collective.
Stay tuned for my next release — Saturn in Aquarius Decan 3: The 7 of Swords — for ending our commitments with grace and understanding. We choose to move forward, into the future, taking what good we can and processing our beliefs and responsibilities before moving on.
Virgo Decan 2: The 9 of Pentacles Bath Bomb
Magickal Uses
Increasing self-reliance, self love, independence, efficiency
Cord cutting, banishing, exorcism, purification
Manifestation, gain, abundance & prosperity, money magick
Beauty, passion, love/lust, and attraction magick
Increasing eloquence, charm
Elimination of obstacles and deterrents to your goals
Ward away evil, restore peace/harmony, psychic protection
Psychic insights into past/present/future
Reflective Divination, Meditation, Dreamwork, and Grimoire practices
Working with Earth elementals, grounding
Increasing self reliance
Journal Prompts for the Full Moon in Virgo 2023
How have I grown and what have I learned since the New Moon in Virgo (August 27th)?
Where/how am I independent and self-sufficient in my life right now? Is this important to me?
What do I feel about providing for myself? For others?
What am I proud of that I've built for myself?
What threatens the bounty of my garden? What could get in the way of my success?
How can I eliminate those obstacles?
What am I discovering about myself?
What House does Virgo occupy in my chart? What themes are at play here?
What new changes or unexpected developments are taking root in my Taurus-ruled House? What are the themes of this House?