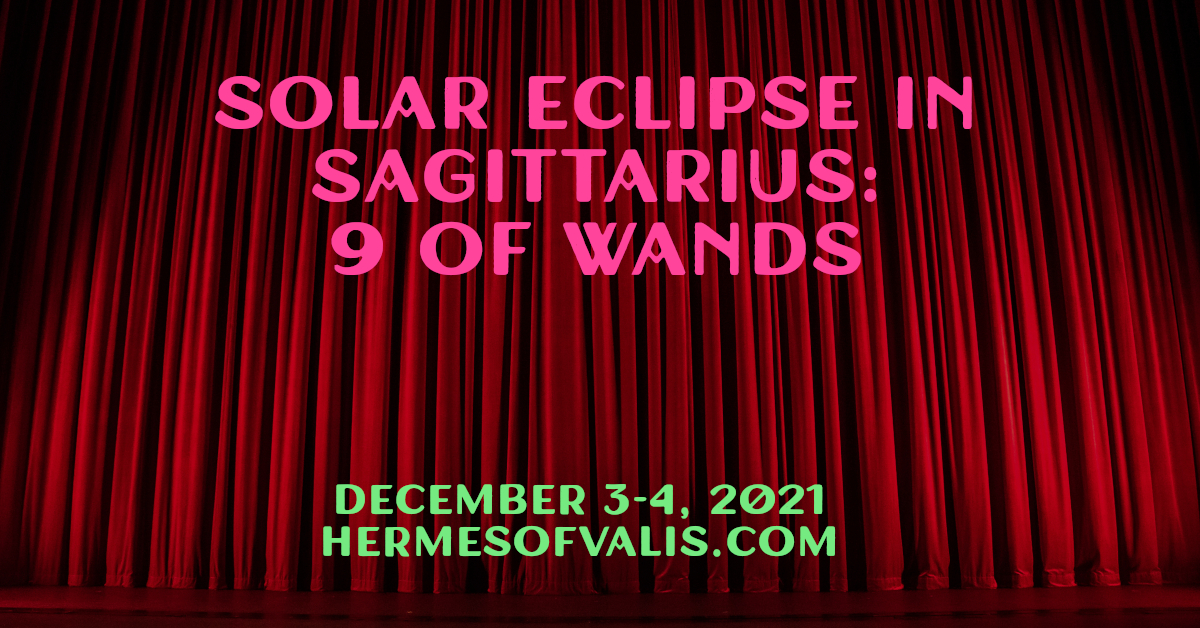 Solar Eclipse in Sagittarius
The New Moon in Sagittarius on December 3-4 is a Total Solar Eclipse! This powerful Eclipse falls on the side of the South Node, a karmic release point associated with the past. So get ready to PURGE. Things empty out at the South Node. But for some this emptying out is a source of power. What new form will you take when you give yourself that fresh start? A new year is coming, in more ways than one (I'm looking at you, Jupiter in Pisces)!
With Sagittarius, you have to trust your gut and take a leap of faith knowing that you'll catch the wind. But this new beginning comes as a result of clearing the way for something. Chances are you've already felt it, as we're nearing the end to this story (this whole lunar cycle being the final chapter). Sometimes we have to get to the bottom before we can find our way back up to the top.
The Sun and Moon are in the middle section of Sagittarius. Zeus, the glowing king of the gods, commands Sagittarius overall. During this lunar cycle, Jupiter splashes into Pisces – a major upgrade for him, as it's his other abode (cue the Angel choir). We saw a glimpse of this magical energy when Jupiter was in Pisces for a short stint this Summer (exact dates being May 13 – July 28).
Ever the optimist, Zeus is happy to lift us up and to see us through a tough time, even as we nurse our battle wounds. It isn't easy emptying out before you can fill back up. Shed your skin willingly, though, and you can decide what happens next.
This is our last Eclipse of the Gemini-Sagittarius Eclipse series. Eclipses usher in change, release, and awakening in the area where they land in our charts. See if you can find a theme or pattern to major changes in your life (internal & external) during the dates below.
A Look Back: Gemini – Sagittarius Eclipse Cycle
June 5, 2020: Penumbral Lunar Eclipse in Sagittarius (15° 34′)
November 30, 2020: Penumbral Lunar Eclipse in Gemini (08° 38′)
December 14, 2020: Total Solar Eclipse in Sagittarius (23° 08′)
May 26, 2021: Total Lunar Eclipse in Sagittarius (05° 25′)
June 10, 2021: Solar Annular Eclipse in Gemini (19° 47′)
December 3, 2021: Total Solar Eclipse in Sagittarius (12° 22′)
You will want to look at placements in your chart that fall in the Houses of Gemini, Virgo, Sagittarius, and Pisces. Need help?
Continue reading

Solar Eclipse in Sagittarius: Starting from Scratch – December 2021